Shades are popular window coverings for several reasons. They offer diverse options in styles and materials to suit every home. They are wonderful standalone treatments for windows and can be used in combination with other complementary coverings for more effect. Shades are several advantageous features over other coverings making them a preferred choice. Check them out below: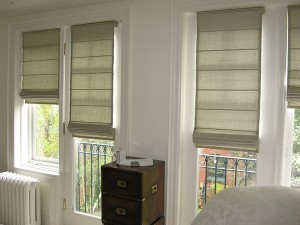 Decorative, stylish, versatile and functional
Great insulation against external temperatures
Wide variety and styles to choose from
Available in light filtering or room darkening
Easy maintenance
Available in motorized versions
Environmentally friendly
Roman Shades come in many different styles, such as relaxed romans, pleated romans, cascade romans, roman with dowels and romans with tails. You can opt for a roman with tails or the relaxed roman for a formal look while other styles are suitable for a casual look.
Roller blinds are also known as roller shades and solar shades. We have a large selection of classic and contemporary fabrics in a variety of colours, textures, designs and opacities.

Wood Horizontals, also known as wood venetians, these bring out the natural beauty and functionality of the windows they are covering.
Faux Wood Horizontals or faux wood venetians offer the look and style of wood. It is a practical alternative for high moisture areas, such as washrooms or kitchens.
Horizontal Sheers are soft sheer panels of fabric with center horizontal vanes that can be adjusted to control light and privacy. Silhouettes, Nantucket, Shadow Magic, Sunset and Vienna are trademark names for these styles of blinds from the large suppliers.
Pleated Shades are fabric shades that pleat horizontally.
Cellular Shades are fabric shades and their distinctive cellular construction insulates and absorbs exterior noise.
Pirouettes are cascading horizontal folds in different fabrics.
---